Your Union
Our 19,000+ members come from Louisiana and Southern Texas. We represent workers in grocery stores, meatpacking houses, barber shops, warehouses and zoos. Formed during the Golden Age of Capitalism, we have bargained strong contracts that have given our members better wages, benefits, and working conditions for over 60 years. We set the standard so that all workers can get the recognition and compensation they deserve.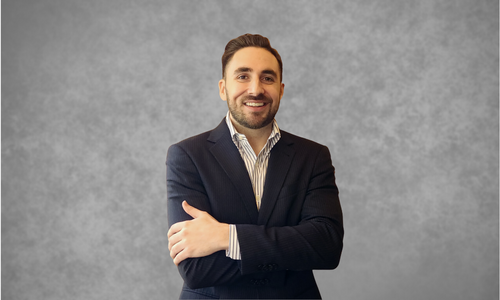 On April 24, 2020, Brandon Hopkins was elected President of UFCW Local 455. Hopkins is the son of retired Local 455 President & International Vice President Bill Hopkins. Bill had a long career with the Local and served brilliantly for over 40 years. The new administration's goals have & will always be to continue the hard work and sacrifice the membership and previous leadership made before us and to continue to work towards stronger contracts, fair increases, retirement, and healthcare for all!
As President of Local 455 of the United Food and Commercial Workers, Brandon Hopkins has emerged as one of the youngest and most influential labor leaders in the Southern United States. Hopkins has been a union member for 15 years. He began his career as a rank-and-file member at Kroger and Special Project Union Representative, respectively, later joining the Local Union staff as a full-time representative in 2008. He worked as a Union Representative in Houston & east Texas before servicing Louisiana.
During his time in Louisiana, he was promoted to Assistant Field Director in conjunction with assisting the Local in contract negotiations across the jurisdiction. In 2014, he moved back to Houston to assist former Secretary-Treasurer, Rick Alleman, in the bargaining department and former Grievance Director, Sue Mann, in the grievance department. Hopkins was promoted to Director of Collective Bargaining and Special Assistant to the President in 2018, and Executive Assistant to the President in 2019. Hopkins has assisted in all major negotiations for the last 12 years.
Hopkins currently holds a seat on the South-Central Health and Welfare Fund & the Atlanta Health and Welfare Fund. He also maintains a seat on the board of the Texas Future Project and the Gulf Coast AFL-CIO. Additionally, Hopkins works with local and state elected officials to advance the Local's pro-labor agenda for its members.
Hopkins is a 2015 graduate of the Harvard Trade Union Program – administered by the Harvard Law School and completed the Wharton Schools Executive Education Program on negotiations in 2016. Furthermore, Hopkins completed the Black Swan Negotiations Program sponsored by the Black Swan Group in 2022.
Thanks in large part to the support of its membership and its leadership, Local 455 will continue to have a strong history of standing up against corporate greed, corruption, mistreatment, and other employer tactics used to steal members' hopes, dreams, and opportunities & slow the path towards prosperity.
Former Positions Held at UFCW Local 455:
– Texas Special Project Union Representative
– Texas Union Representative
– Louisiana Union Representative
– Louisiana Assistant Field Director (assisted former Secretary Treasure Rick Alleman)
– Texas Assistant Field Director (assisted former Grievance Director Sue Mann)
– Field Director for Texas
– Field Director for Louisiana
– Director of Collective Bargaining
– Special Assistant to the President (Former UFCW 455 President Bill Hopkins)
—
Brandon Hopkins
President
–
"Since 1956, this union has had a solid history of protecting the interest of our members through collective bargaining, organizing, and actively supporting legislation that benefits all working people. We are proud to continue this effort, building on the legacy of the trade unionists & members that came before us.
Our goal is to ensure our members continue to receive the best possible contracts which guarantee wage increases, health insurance and pensions, alongside safe and respectable workplace conditions. The success of this Local achieving these goals, however, depends exclusively on the participation and support from which our members provide. Standing together, through solidarity, we can and will achieve great things."
Shirley has been a union member for over 35 years. Her father worked with Ingall's Shipbuilders and was a strong union member - He taught her the value of a union. She began her career with UFCW Local 210 in Baton Rouge, LA in 1986 as the office manager. After the merger of Local 210 and Local 455 in July 1999, Shirley continued working in the Baton Rouge office. In 2001 Shirley left the office for a job as a Union Representative and enjoyed it immensely! It was then when she truly realized the joy of helping others.
In November 2017, Shirley was promoted to Field Director, overseeing all the Louisiana Union Representatives. Today, she serves as UFCW Local 455's first female Secretary-Treasurer and has been filling this roll since July 2018. It's been a long 35 years but she hopes to continue in serving the membership and staff she enjoys so much!
"UFCW Local 455 is all about making sure our members are taken care of. That's why I've been with the union for over 35 years!"
Former positions held at UFCW Local 455:
- Union Representative
- Field Director
- Secretary-Treasurer
-
Shirley Rome
Secretary-Treasurer
–
"The history of a union is that of its members' ongoing struggle for equality, fairness and social justice. For 60+ years we have provided a powerful voice for working people in Louisiana and southern Texas and we have improved the standard of living of our members and all working people in our communities.
Join us as we stand together as one great union and together, we will continue to accomplish great things."
History of UFCW Local 455
On July 30, 1956 a charter was issued by the Retail Clerks International Association, AFL-CIO to Retail Clerks Union Local Number 455, Houston, TX. The Charter was granted upon application for a charter by seven clerks employed by Henke & Pillot Grocery Stores (now Kroger) in Houston, TX. These seven founding members of Local 455 together with assistance from the International Union organized the clerks at Henke & Pillot and won an election for Union representation conducted by the National Labor Relations Board later in 1956.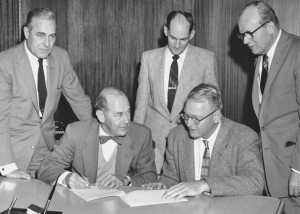 The first Union contract was signed on January 24, 1957 between Local 455 and the Henke & Pillot Division of the Kroger Company. That first contract was fifteen (15) pages long and formed the base upon which our contracts for food stores are built today. In 1957, pay rates were higher for male clerks than for female clerks.  The top pay for a two year experienced male clerk was $1.42 ½ per hour and females at $1.32 ½ per hour. The basic workweek for overtime was forty-two and one-half hours per week, there were five paid holidays and a maximum of two weeks paid vacation to full-time only.
In 1979 a new Union was born by the merger of the Retail Clerks and Meat Cutters International Unions. The name of your Local was changed to United Food & Commercial Workers Union Local 455 and even more strength was added on a local level by opening up lines of greater communication with the Local Unions that represent the meat employees in the stores. The Barber and Cosmetology International Union also joined with the UFCW in 1981.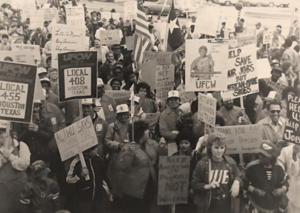 With the merger of Local 455 and Louisiana Local 210 in July, 1999, the combined memberships marked the beginning of a new era of cooperation, progress and innovation. In March 2008, Local 455 again, became even stronger with the merge of Local 408. Today your local union represents not only Retail Clerks; it also represents Barber/Cosmetologists, Meat Cutters, Poultry & Fish Processors, Food Service Workers, Manufacturing Operators, Truck Drivers and Distribution Center Clerks. The objectives and principles of Local 455 today remain as high as they did sixty years ago. They are set forth in the Constitution of your International Union and the Bylaws of your Local Union.
"

The objectives and principles of Local 455 remain as high as they did sixty years ago.

"
From these modest beginnings, your Local Union has moved forward year after year in improving wages, working conditions and benefits. We are proud to say our members, both past and present, have on more than one occasion stood up to be counted on when it has been necessary to preserve what we have and to achieve more for the future. We must be prepared to fight to keep what we have gained over these past six decades. From the founding seven to the over 19,000 members represented today, your Local Union salutes you for a job well done!
Download Our App
A
members-only
tool helping you stay connected with your Union all in the palm of your hand.
Why We Organize
Working people need fair treatment.
Employers continue to try and shed the responsibility of providing affordable health insurance, good pension coverage, reasonable work hours and job safety protections. They are also uninterested in paying a decent wage. Working people need the collective voice and bargaining power unions provide to keep employers from making the poor workplace decisions that directly affect you, the worker.
By growing our membership, we can continue to build union strength in our communities and win better contracts for all. Through organizing non-union companies, we can help bring wages, benefits and working conditions up to satisfactory levels which in turn will improve the lives of our members and also that of our communities.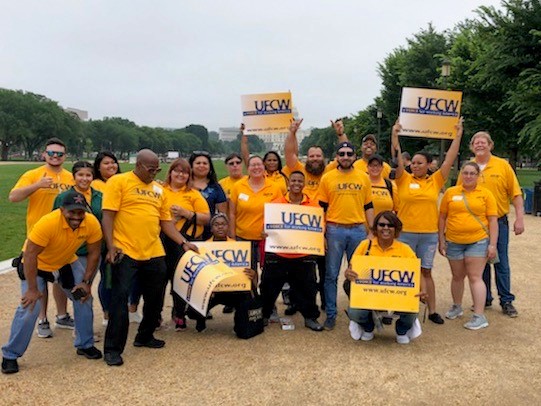 Better wages and benefits
Union workers earn 13% more than non-union workers.
Real job security
With a Union Contract standing behind them, Union workers can only receive discipline for 'just cause.'
Fair scheduling and leave
When you're a member of a union, your contract protects you when you need leave or time off.
Equal rights and workplace diversity
Transparency in a union contract can prevent discrimination in raises and promotions; and help to ensure union workers have protections that go beyond what is contained in the law.
Access to affordable healthcare
94% of union workers have access to high-quality workplace healthcare that includes everything from regular preventative services to a crisis that you can't control.
Improving public health
UFCW has been at the forefront of the pandemic making sure employers and elected leaders do the right thing to keep our members, workers and communities healthy and safe.
UFCW International
Members of UFCW Local 455 are empowered through the combined strength of more than 1.3 million fellow members which make up the United Food and Commercial Workers International Union. Together, with over 1,000 UFCW locals across the United States and Canada, we are an effective force for better wages, secure benefits and stronger rights at the workplace.
Houston Office

---
121 Northpoint Dr.
Houston, TX 77060
Office Hours: MON – FRI 8:00 AM – 4:30 PM
President, W. Brandon Hopkins
Secretary-Treasurer, Shirley Rome
If you are unable to call during regular business hours, please feel free to contact us by completing the form below.